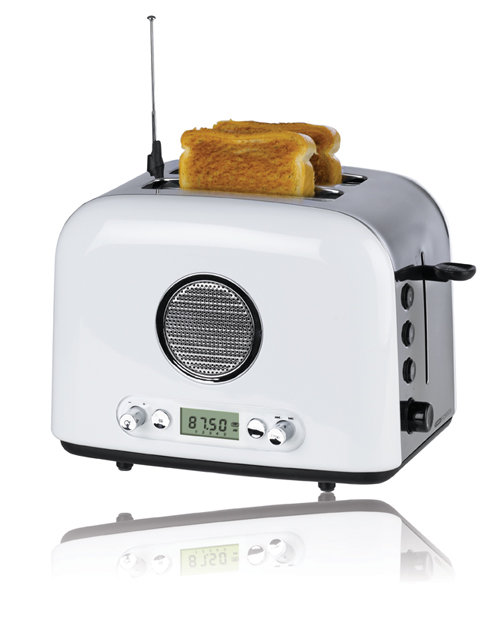 As far as kitchen appliances go, the toaster is pretty much the party animal of the bunch. Either that or the class clown. But no matter which way you look at it, there's no denying that the ubiquitous little countertop appliance sees its share of gimmicks. Gadgets and gizmos routinely get attached to the machine, from egg cooker contraptions to integrated coffee makers. Usually however, the toaster is rather quiet about it.
Not so with the new OBH Nordica 2666 Radio Toaster.
The newest thing to get stuck on a toaster is an AM/FM radio. Complete with speaker, station presets and a fixed antenna, the toaster-radio combination serves up tunes alongside the morning toast. Although it doesn't come with an iWhatever dock, just be glad the old-timey mash-up doesn't include a cassette player—butter generally makes for a better spread than melted plastic.
Product Specification:
2-slice electronic toaster with built-in AM/FM radio
Variable browning control
Defrost function
Reheat function
High-rise – makes it easier to remove the toast
Detachable crumb tray for easy cleaning
AM/FM radio – up to 5 preset stations
Equalizer with 5 settings: Jazz, Rock, Pop, Classical, Flat