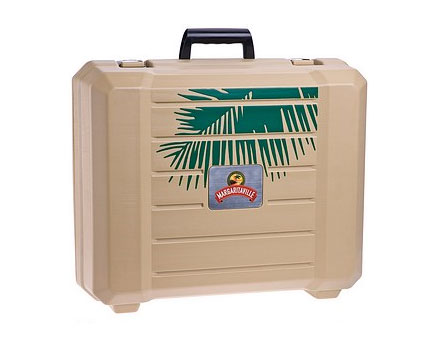 If you're going to travel, travel in style. That means taking the means to make your own cocktails with you. And if you happen to have the Margaritaville Battery Powered Frozen Concoction Maker, the only way to go is with this Margaritaville Travel Case for DM0900 Series. All the details on this finery in the product description below. Ice not included.
Take the party with you! This rugged plastic hardcase is designed to store, protect and transport the Battery Powered Frozen Concoction Maker DM0900 series to whatever latitude you desire. It sports a sturdy handle and a stainless steel latches to secure the Battery Powered Frozen Concoction Maker when its time to pack up the party. The hardcase has individual molded in locations to hold the Frozen Concoction Maker with a battery, the charger and an extra battery. Constructed from durable blow molded plastic, with fun Margaritaville design and details make this hardcase a conversation starter before you even fire up your Frozen Concoction Maker!
July 15, 2011 No Comments
Most alcoholic beverages are somewhat of a required taste. Remember your first beer? Doesn't taste so odd now, huh? As a gateway drug drink, beer has nothing on the next level up: hard liquor. Soon after discovering that sugar is an effective mixer, 21-year-olds (ahem) everywhere learn that, for their still-developing tastebuds, when it comes to booze, colder is better.
Providing a means to chill drinks colder than ice, the Margaritaville NBMGDC1000 Chillin' Pour Liquor Chiller
is a super-freezer and a drink-dispenser all in one. Chilling spirits down to 15-degrees F, the small countertop unit uses a distinctive throttle handle to ease out a shot of super-cooled booze. The unique bar accessory holds up to 750-mL of booze, or just enough to get the frat party started. At a price point similar to that of a college textbook or two, it may not constitute required reading, but it shouldn't come as any surprise what will get more use.
October 22, 2010 No Comments