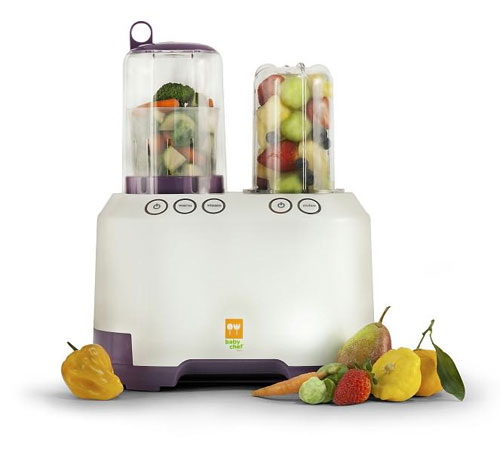 New parents don't have a lot of time. In fact, reading beyond this sentence is probably a chore. Cutting to the chase…
Product description for the Baby Chef BC200CHEF Ultimate Baby Food Center by Kidsline:
Five machines in one, the Baby Chef Ultimate Baby Food Center is an essential tool for busy parents and caregivers. This time-saving food center features a unique side-by-side steamer and food processor for simultaneous blending, chopping, reheating, and steaming. The large processing jar includes a storage lid, so you can make food in advance to store in the fridge or toss the jar into your diaper bag for on-the-go meals. The space-saving design and convenient accessories make this the only equipment you'll need to provide healthy, nutritious meals for your growing baby.

* All-in-1 Machine: It steams, chops, blends, purees, defrosts, warms – even accommodates baby bottles
* Side-by-side meal prep: steam and blend at the same time
* BPA-free with "Same Time" dual function controls
* Space-saving side drawer with tongs, spatula, and lid Included
* Measuring cup and bottom cord storage included
* L 10.5 x W 6.1 x H 14.2
* Imported
And if you made it this far, you must not be a new parent! But rest assured, Barnes & Noble would still be happy to sell you one as a gift. Baby Chef BC200CHEF Ultimate Baby Food Center by Kidsline.